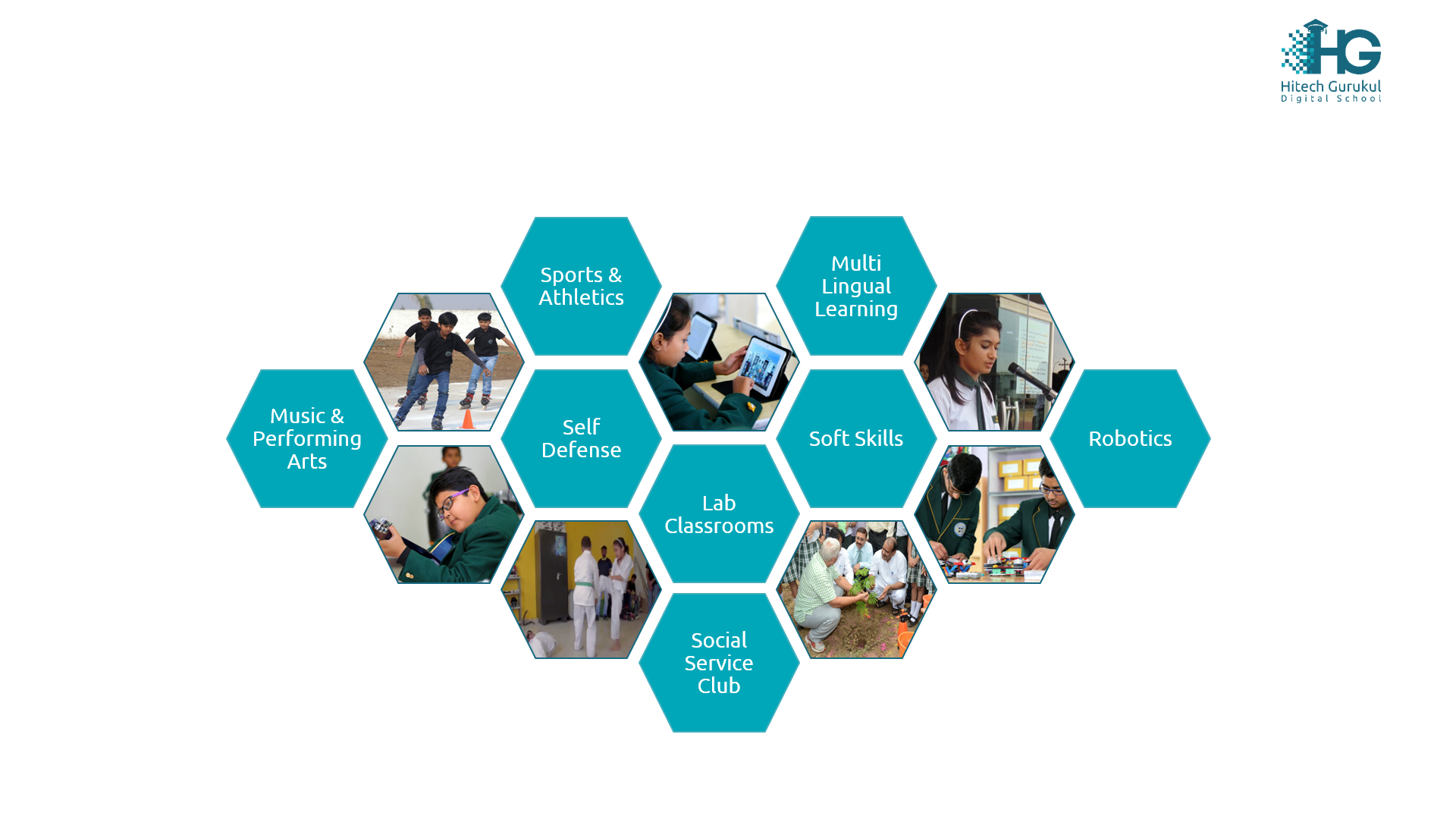 Education is almost incomplete without students' active participation in sport, music and dance, and other recreational activities. Extra-curricular activities play a very important role in helping the kids develop many working skills, people skills, and more.
Music & Performing Arts
Children involved in Music and other form of arts are often more expressive, with emotional understanding and an increased ability to think creatively. Children involved in such extra-curricular activities generally have better memory skills compared to the ones who are not trained.
Sports & Athletics
Children involved in sports stay healthy due to their increased physical activity. It also boosts their confidence, resilience and psychosocial development. Children who are actively involved in sports from a young age are more likely to be social than the ones who are not very active. With this in mind, at Hi-Tech Gurukul – Best School in Kota we provide state of the art facilities for activities like Badminton, Basketball, Skating, Martial Arts, Table Tennis, Cricket, Football, Chess, Lawn Tennis, and Swimming amongst others.
Self Defense
We believe every student should have the necessary skills for self defense in case of adversities. Self-defense doesn't mean attacking, it actually means doing your best to avoid a potential attack or someone who threatens. Hence, we incorporated a self-defense training curriculum wherein every student can undergo weekly training sessions from highly experienced trainers and enable them to stand up to any situation.
World Language
Learning a world language can be an incredibly enriching and rewarding experience. It is not only a confidence booster but will also improve the students' employability in this increasingly globalized world. Hi-Tech Gurukul, thus, emphasizes the need of foreign languages in schools from an early age.
Robotics
Robotics as a part of extra-curricular activities gets students excited about science, technology, engineering, and math (STEM). Robotics can be very effective in building team-work among kids and boost self-confidence. By introducing robotics at an early age, we intend to enable our students to indulge themselves with the day-to-day technological applications that's booming around them. The activity involves building various functional robots to increase familiarity with scientific concepts including speed, distance, mechanics, electronics, angle, sensors, motors, etc.
Soft Skills
Soft skills can include aspects of basic, all-purpose skills that include the cognitive elements related to non-academic skills. Soft skills are identified to be the most critical skills in the current global job market specifically in this fast-moving era of technology. Soft skills such as communication skills, thinking and problem solving skills, professionalism, team work, ethics, moral and leadership skills can be regarded as the additional generic skills that gives an edge to any student.
Social Service Club
The Social Service Club at Hi-Tech Gurukul encourage and develop moral values amongst students with regards to their responsibility towards society. We imbibe the feeling of sharing and caring amongst our students for the underprivileged in the society. Along with the social values of sacrifice and charity, we teach our students lessons on moral values, and facing despair with faith, hope and optimism.
Hi-Tech Gurukul (A CBSE affiliated school in Kota) is Eurovision's showcase school to provide 21st century learning coupled with the traditional ethics and principles. Being the first E-learning school in India, Hi-Tech Gurukul makes use of tablets as a means of imparting education to its students.