Earlier the student used to sit in the same class and teachers change the classes but in lab concept teachers do not change their classes, instead students used to come to the respective lab. In lab concept school is not divided on the basis of classes but it is divided on the basis of labs. There is a separate lab for each subject in which all the teaching aids related to that subject are kept.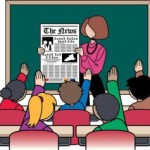 Advantages of lab Classroom
1. Students and teachers feels themselves more organized.
2. It is easy to manage their teaching aids. Earlier it was very difficult for teachers to carry so many teaching aids with them to different classes.
3. When students moves from one lab to another they feel fresh as the negative energy they have accumulated tends to shed by their movement.